January 03, 2017 – 4:23 p.m
Tools & Technology
Did you know what a mini dumper is? We had already heard the term "dumper" in connection with construction site vehicles, but were only recently brought back to it by a press release from scheppach reminded: A dumper is a so-called dump truck, as it is used in smaller or larger versions for the transport of bulk goods. And a mini dumper like the one presented now scheppach DP3000 is a miniature version of it – in popular terms you could call it a motorized wheelbarrow. Why are we getting to this now? Because of the recent onset of winter, there is also a snow blade for the DP3000.
Admittedly, this motorized device can only be used sensibly on a terraced property if the owners of the entire row of houses get together, but such a vehicle offers real added value for larger properties. On the one hand, this is due to its capacity:
The tipping body has a capacity of 125 litres, so that a considerable amount of earth or sand can be transported with it. The load can weigh up to 300 kg. The goods to be transported are tipped out manually.
The second advantage is the relatively slim design. The mini dumper is only 81 cm wide and 1.30 m long. It can be easily maneuvered through most garden gates or doors and finds a place to rest in many garages or sheds. The wheelbase also promises a very good balance between smooth running and maneuverability. In addition, there are air-filled, all-terrain studded tires and, last but not least, the four-stroke engine with 6.5 hp. Three forward gears (up to 2.4, 4.8 and 6.4 km/h) as well as one reverse gear allow the propulsive power to be dosed correctly, even on difficult terrain.
Clear snow easily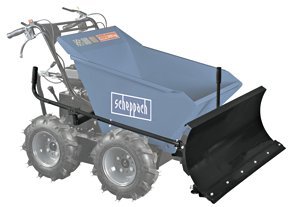 Nothing stands in the way of the comfortable transport of excavated material, gravel, paving stones or terrace slabs. However, not too many garden owners will be concerned with this at the moment. The snow blade could now be more useful for them when clearing larger areas. It clears away the white splendor over a width of 1 m and can be adjusted to the conditions on site with a three-stage angle adjustment depending on the snow consistency and the subsoil. If you already have the container with grit ready in the trough, you can also grit the area immediately after clearing it.
Anyone who feels attracted to the device can purchase it for around 1600 euros – the manufacturer's recommended retail price. The snow shield is available as an optional accessory and costs around 180 euros. [ha]
Photos: scheppach