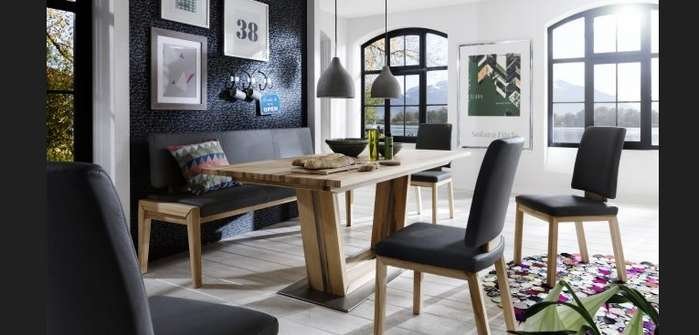 A room with an industrial design always looks a bit like the furniture needs to be replaced due to its age. They look worn and yet charming. A dining room in industrial design is the ultimate eye-catcher.
The dining room in industrial design: the background to the trend
The dining room in industrial design always looks as if it is not quite finished. A little worn maybe, here and there it still needs additions. And yet the rough charm of the furnishings is recognizable, proving to be personal and characteristic. The dining room is always inviting, and interesting and spreads a feel-good atmosphere.
The entire apartment does not have to be furnished in this style, and not even the entire dining room needs to follow this trend. A dining table in industrial style alone can be sufficient if it is combined with matching chairs.
Hence the trend
Industrial design is not a modern trend; it actually has its roots in the 1970s and 1980s. Back then, factory owners had to give up their sites due to economic crises. Artists converted them and industrial design studios were created. This in turn later became loft apartments.
In addition, different styles are recognizable within the industrial design:
Loft industrial design

Spacious rooms are designed with it, and large seating landscapes and dining rooms with huge dining tables are created. The core elements are concrete and steel combined with worn wooden furniture.

DIY industrial design

This can also be used to design smaller rooms, it's all about the imperfect. Materials and furniture are often used for new purposes.

Vintage industrial design

Dark furniture, some of which is even black, with steel, brass, and copper elements characterize the style. It looks rather glamorous and relies on bright accents as eye-catchers.
All design variants have in common the minimalist design with no frills. There are no delicate patterns and delicate fabrics, everything is rather robust and coarse. Significant traces of use are common, and new materials are not welcomed.
The color scheme of the dining room in industrial design
The dominant colors in the industrial design dining room are concrete grey, anthracite, and black. They are mainly used for metal walls and furniture. Seating furniture, on the other hand, is kept in earthy tones, especially in the dining room. Brown and beige in all shades are used here. Cushions and curtains are also color-coordinated.
Tip: For a very classic dining room with an industrial design, the heating and electrical installations remain visible.
Why is the industrial style so popular?
A dining room in industrial design? Or an entire apartment in that style? Why not, after all, this design, which can be combined with the Scandinavian living trend, is finding more and more followers.
This is not surprising, because the perfection that is often strived for and never achieved is simply missing here. It's not about furnishing a space that pleases the general public. It must be individually appropriate, be perceived as beautiful, and suitable for well-being.
The industrial style scores with several aspects:
even small apartments get an urban ambiance
the room looks more homely, it appears used and testifies to the life that takes place in it
even mismatched things are forgiven
This is how the dining room is set up in industrial design
Many of the aspects mentioned above affect the whole apartment and not just the dining room in industrial design. But some things are actually only relevant for the dining room, which is the center of life in many apartments. The whole family meets here, everyone wants to feel comfortable and secure.
It's about finding a piece of yourself and not pretending. This is exactly what the furniture in industrial design does not want at all, they come up with a simple design and convince with their unique look and feel. Many of the pieces are elaborately processed and genuinely unique.
The most important materials in the dining room in industrial design
In order to achieve individual charm in the dining room, different materials are ideally combined with each other. The wooden dining table has a cast iron frame. The wooden panel can be very thick, does not have to be straight and can also be designed as a tree edge. The imperfection is reflected in the curved lines of such a dining table.
Metal should not be missing in the dining room either, it is used in the form of fittings for the sideboard as well as a single board that is used to store spices or similar kitchen accessories. This combination of different materials ensures that the dining room retains its industrial charm. Contrasting elements are used, they are worked up several times and ultimately create a place of well-being in your own home.
The materials used exude the desired charm and indicate that machines and large systems are used to stand where the furniture used to be. Even if that doesn't have to be the case for small apartments, the corresponding memories are at least associated with it.
Steel, glass, and wood are the most important when it comes to the right materials for the industrial design in the dining room. Windows can have dark steel frames, kitchen and dining room can be separated by a glass wall.
Wood is varnished or sanded, oiled, or painted with varnish, which shows up with many cracks. Steel is not only used for the frames of chairs and tables, but also for the frames of partition walls or as a steel girder, which of course remains free and therefore visible.
The most important tips for the perfectly imperfect dining room in industrial design
Small dining rooms can also be set up in an industrial design if they don't look overloaded with it. The most important thing is always the dining table, which should be designed in a typical industrial style.
It is combined with the matching chairs so that it is an eye-catcher in the room. The rest of the furniture should of course follow the style, but they don't all have to be eye-catchers.
If you opt for the industrial style for the whole apartment or just for the dining room, you should consider the following tips:
No perfection:

Not all elements have to harmonize with each other, there may also be breaks in style. This applies above all to material technology and style.

Selected colors:

The colors have to harmonize with each other. Earthy tones, reddish brown, green and blue provide the necessary comfort. No single color should dominate too much.

Geometric patterns:

Please no flourishes or flowers! Geometric patterns and designs reminiscent of earlier industrial plants are in demand.

Pads are allowed:

Upholstered chairs can also be used, because who wants to sit on hard chairs in the dining room all the time? Leather is often used for the upholstery, and velvet is also welcome. However, both should already look a bit worn. It is easy to see that the upholstery is not new.

Combinations are allowed:

It is not necessary for the entire room to be kept in one style. Less is often more and the combination with other living styles is much nicer than if everything had been kept in industrial design. This can also quickly look very ugly and visitors feel as if they are standing in an interior design museum.

Working with light:

As with other living styles, the industrial design depends on the right light. This means that it should be as bright as possible, individual zones can be illuminated separately. Typical are bare light bulbs that hang from the ceiling and can be placed above the dining table, for example. Workshop lights are also an option. They are now available with beautiful filaments that provide a warm light and, despite their imperfection, create a cozy ambiance.