As more and more options for getting on the water become accessible, the paddling community has grown along with the explorers and admirers it draws. There are various methods to go on the water, with an inflatable kayak being one of the most popular.
Others include canoeing, paddleboarding, rafting, and rowing. You may join the thousands of kayakers out exploring public lands and seas now more than ever, thanks to the abundance of available kayak alternatives.
Single-layer vinyl inflatable kayaks
The inflatable kayak made of a single vinyl sheet is often the most affordable option. These kayaks are best suited for mild recreational use in an area of water that is very calm and sheltered. Additionally, it is only recommended for short paddling trips. If you are working with a limited budget, your best option would be a single sheet vinyl kayak.
What amount of weight will you be required to carry?
Consider the fact whether you will be at comfort and at ease when picking a kayak. Observe the style, breadth, and space for the legs. Do your legs or torso make up more of your height if you're tall? Compare the weight required for you and your gear, or two paddlers and their gear, with the kayak's carrying capability.
Inflatable sit-on-top kayaks or sit-in kayaks?
The choice between a sit-on-top and a sit-in kayak depends on your personal preferences, the location where you'll use the kayak, and the purpose for which you'll use it. You may find endless inflatable kayak reviews online.
A sit in inflatable kayak provides greater weather protection, making it the more "conventional" choice. Sit-ins are more adaptable as a result, and they are also better over longer distances (touring). Additionally, compared to sit-on-tops, they are often lighter, quicker, and simpler to move.
What sort of water do you like to kayak?
Are you currently watching whitewater trick videos on YouTube and are eager to try off some simple techniques? Would you desire to master the art of surfing large ocean waves? Have you been making preparations for the next fishing season in the winter? Or are you just searching for a leisurely afternoon paddle over the lake?
Your choice of boat will affect the kind of water you may paddle on. Because they are more stable, wider boats are preferable for novice paddlers and those still getting the hang of kayaking.
Shorter kayaks are easier to maneuver, which makes them more suitable for swift-moving streams and avoiding submerged obstructions. To prevent the unpleasant zigzag paddle route, longer vessels or ones with V-shaped heels or rudders nearly usually track better.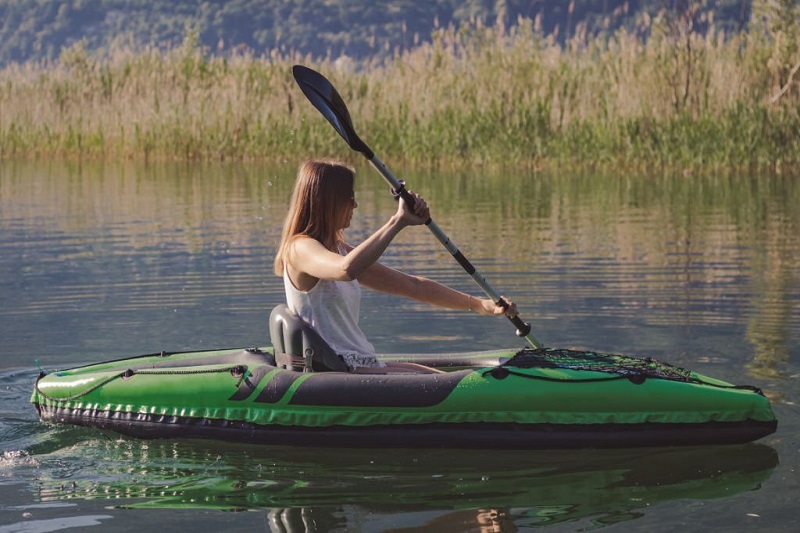 Are the setup and breakdown easy?
It might not seem like a big concern right now, but trust us when we say that you will use your inflatable kayak sparingly if it takes an hour of inflating and other preparation to go in the water. If you perform it every weekend, an hour won't be so horrible once or twice a year, but it will rapidly grow old.
Performance
It's common for inflatable kayaks to sit higher out of the water, especially the more economical single-layer vinyl kayaks. Accordingly, the wind has a greater impact on them. If you wish to explore outside of protected water regions, such as bays, canals, and slow-moving rivers, consider investing in something more durable.
Another performance element is to keep your inflatable kayak moving straight. If you want to avoid going round and round constantly, consider buying an inflatable kayak with a skeg. A stand-up paddle board would include a fin similar to this tracking fin. Before setting out on longer expeditions, it is worth taking a few lessons or, at the very least, practicing near the bank.
Storage
When not in use, inflatable kayaks that are single-layer, multi-layer, and drop-stitch only occupy a little amount of room in your home.
Conclusion
You might never be satisfied with utilizing a better, more freeing piece of outdoor gear than a packable kayak. You may become a serious paddle ninja if you have an inflatable kayak that you can throw in the car for any family vacation "just in case," travel the world on vacation or keep nearby for after-work paddles.