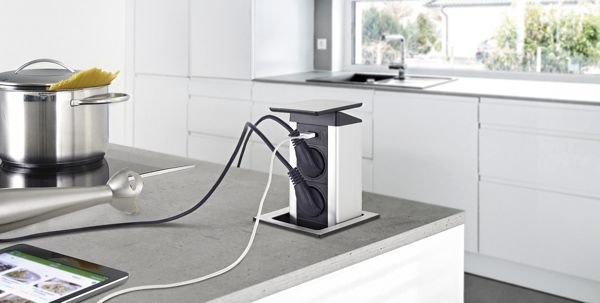 Whether it's a study, kitchen, or workshop: were frequently changing electrically operated tools, machines, and devices are used, power connections should be as easily accessible and close to the place of use as possible. Blessed are those who have had a sufficient number of rows of sockets installed above worktops or workbenches from the outset. But the easily accessible power supply can also be retrofitted, and without tangled cables and loose socket strips lying around: Schulte electrical engineering has been offering practical connection systems under the EVOline brand for some time. Well, there is with that EVOline Port Push retractable connection columns that are easy to reach, but just as quickly become almost invisible again.
The advantages of the system are immediately obvious: Sockets according to German or international standards, switches, buttons, but also Ethernet, USB, audio, or display connections are integrated into a column that is sunk into the table or worktop when not in use. Then you only see the cover plate made of stainless steel. If you unlock the column with your finger and pull it up, all connections are accessible. If you no longer need it, simply push it back in. The flexibly mounted cover prevents plugged-in cables from being pinched.
You don't only learn to appreciate this working principle in offices. In the kitchen, small devices can be connected as needed, in the hobby workshop you can use power tools very flexibly, but if necessary you also have a large, free work surface in front of you.
Connections as desired
The user decides which connections are available in Port Push according to his individual needs. The quite large selection is available in the form of easily exchangeable modules. This allows you to put together exactly the combination that you need at the respective location.
Should the working conditions change, that is not a problem either: According to the manufacturer, the modules can be removed and replaced with others without any technical knowledge.
The connection pillars can be installed in panels with a thickness of 10 to 50 mm. If you have a milling machine available, you can also embed it flush into the panel surface. Assembly is tool-free with locking wedges that fix the construction from below. So that there is no cable chaos underneath the work surface, the connected lines can be combined in flexible cable ducts that are clipped onto the Port Push. If you need a lot of connections, you can of course use several columns next to each other as required.