Pumpkins are among the more resilient fruits, as they find ways to get big and plump in poor soil and distribute nutrients along a connected vine that reaches into the soil to replenish itself. Perhaps this is why pumpkins have become symbols of prosperity, growth, and abundance. And now that autumn is here, you can easily make white pumpkin decorations in the house and enrich the rooms with a touch of freshness and elegance.
Pumpkin vase with autumn flowers
Bring the colors of fall into your home with this beautiful centerpiece idea. The pumpkin itself serves as a vase! Choose a squash with a long stem, as this is a sign that it is "younger" and will last longer. Also, choose a pumpkin with fewer blemishes and soft spots.
What you need:
Waterproof floral tape
Drinking Glass – For holding the flowers
Knife – For carving the pumpkin center piece
flowers of your choice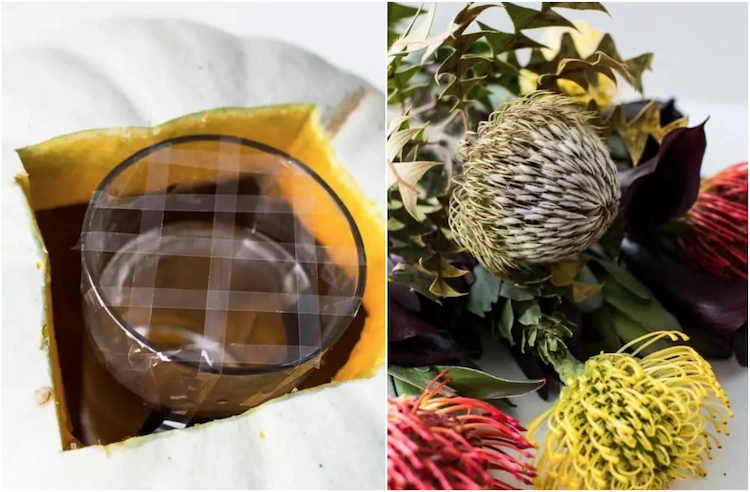 Instructions:
Cut an opening in the top just big enough to put the drinking glass in. Then scoop out any pumpkin innards.
Glue a grid along the edge of the glass with the waterproof floral tape. This way you can easily place the flowers and branches and make sure they don't get tangled.
Fill the glass 3/4 full with water. Put the jar in the pumpkin.
Start inserting the stems as you like. They don't have to be perfectly placed, because you want them to look a bit uneven.
Once you have placed all the flowers where you want them, insert the persimmon sprigs into the gap between the jar and the pumpkin. There is no need to put them in the jar as the branches do not require water. This way you also get the cool hanging effect around the edges.
Paint the pumpkin and combine it with white and blue porcelain
What you need:
white pumpkin
primer color
pencil
acrylic paint marker
Acrylic paint (Blue in different shades for a better effect)
---
Instructions:
You can use a white craft pumpkin for this DIY project. You can easily recreate the look of a blue painted porcelain jar. Start by spraying the pumpkin with white primer. After drying, draw a pattern with a pencil and trace it with acrylic paint markers. Then fill in the rest with acrylic paint in a mixture of primary blue, ultramarine blue and touches of black. If you don't want to paint the pumpkin yourself, you can print out another design, cut it out and decoupage it.
Pearl decoration for finesse and elegance
What you need:
White wax paint or chalk white for a more solid look
gold color
Paint brush
sewing needles
hot glue gun
white pumpkins
---
Instructions:
We would recommend looking for pumpkins that still have the stem attached. You always look special. Well, if you want the gourds to last more than a few weeks, you'll need to sanitize them. Now that you've got everything set up, it's time for the fun part! DECORATE! First comes the painting. You can use a wax paint for the naturally white pumpkins. It's semi-transparent, so it's perfect for applying a touch of color while maintaining the natural look. To create an interesting effect, you can put tiny brush strokes of red-brown color on the edges. Painting them beige (or white) first will show off the gold much better than painting over the dark stem.
Give your pumpkins a full 24 hours to dry. Especially the pumpkins that you paint with wax paint. After that, it's time to decorate! Since pearls are so on trend this fall, you definitely need to incorporate them in some way. You can opt for flat beads of different sizes to add dimension and make it look even more complicated, i.e. more expensive. Just grab your tweezers and a hot glue gun!
A few things to note: The hot glue dries very quickly. Therefore, you can hold the hot glue gun in one hand, grab the beads and immediately glue them to the pumpkin with the other hand. You can also use regular glue, but then there is a risk that the bead will slip as it dries. There are endless ways you can create your bead design. The main thing is that you let your creativity run wild!
White Pumpkins Decoration: Coffee Table Display
Your dining table isn't the only place where white pumpkins will show off. White pumpkin decorations add a sophisticated touch to a coffee table in the center of a rustic living room. And you can place them in any room if you want to bring a radiant flair into the house!
Creating works of art in autumn is so easy
Treat your white pumpkin like a blank canvas and turn it into a work of art. Paint the flowers freehand, then line up some of your masterpieces for a result that will impress your guests.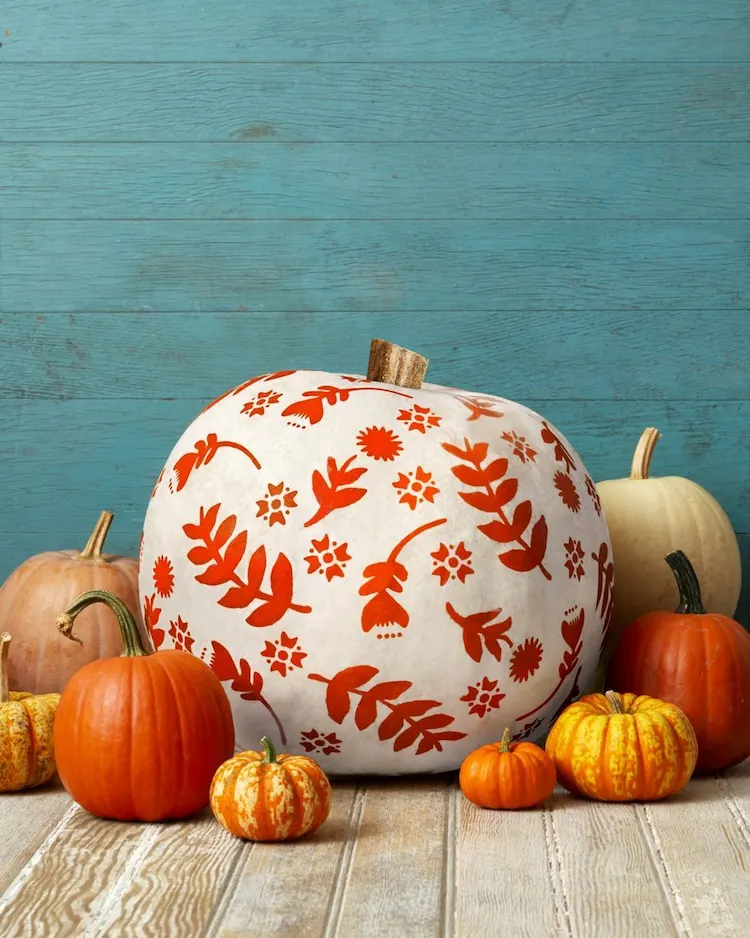 Another craft idea: Pick out some leaf and flower stencils, glue them to your pumpkin and add craft paint. (If you want to wow your guests, opt for orange paint on a white pumpkin).
How to make a pumpkin last longer
A pumpkin stays fresh for months. But once carved it will last about 12-14 days indoors. How to make your squashes last longer: Wash the squash with bleach beforehand to kill bacteria and fungus. If you want to prep it more naturally, sprinkle with diluted lemon juice or vinegar. Apply petroleum jelly around the cut edges to seal in the moisture. Soak in cold water or refrigerate overnight to rehydrate the squash. You can also use a craft pumpkin, which requires no maintenance but can still be carved.